Celebrating the best in architectural communication

How to create an award-winning website
Including interviews with experts and previous Archiboo Award winners (Very Own Studio included), this white paper covers tips on how to create an award winning website, such as getting the brief right, how to make the most of design and content and maximising the use of social media and analytics.




No looking back: lessons from 2020
Published when most people were remote working and socialising virtually, this white paper looks at experimentation and collaboration within the design industry. It explores how architectural practices can have a positive impact on society.




Social media launch campaign
To help launch the 2021 Archiboo Awards, we created a bright and eye-catching social media campaign. Each category was given its own logo/badge and we established a design framework for revealing judges and counting down towards entry deadlines.








We asked Very Own Studio to give the Archiboo Awards a new look for 2021. The result has been really positive, we've had more entries and more followers on Instagram as well as raising Archiboo's profile among our audience.
Amanda Baillieu
Archiboo









2021 Archiboo Award trophies
We designed the 2021 Archiboo Award trophies. Each one is made up of two interlocking abstract letter A's, which represent the words Archiboo and Awards. Together, the pieces create an upward arrow, symbolising that the recipient is top entry in their category. But the trophy also have the appearance of a curser arrow, which links nicely with the online focus of the awards.

One of the main considerations for the 2021 awards was being respectful of resources without compromising on design or finish. With that in mind the design cleverly utilises off-cuts of material to create the trophies.




The awards were manufactured by
Standard8
using 15mm Aluminium plate off-cuts, left over from a previous job. To elevate the material above its surplus state, each of the 12 category awards was CNC machined, hand-finished, anodised and laser-etched with the Archiboo Awards logo and winner's details before the two halves were bonded together.
I knew Very Own Studio would rise to the challenge, they always do. Everyone loved the trophies!
Amanda Baillieu
Archiboo
Creative Direction: Mark Ferguson
Design: Mark Ferguson
Manufacture of awards: Standard 8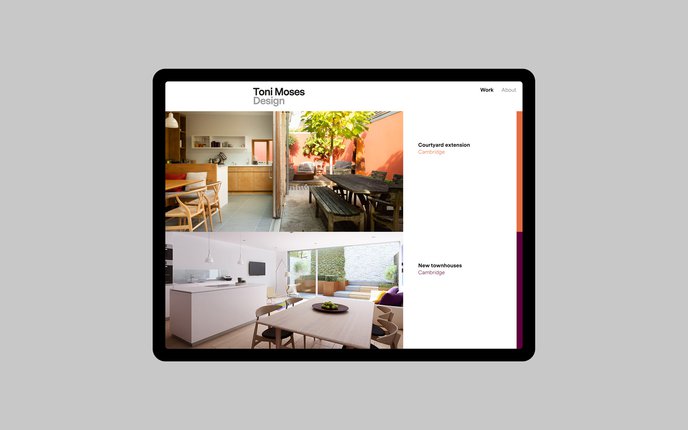 Toni Moses Design